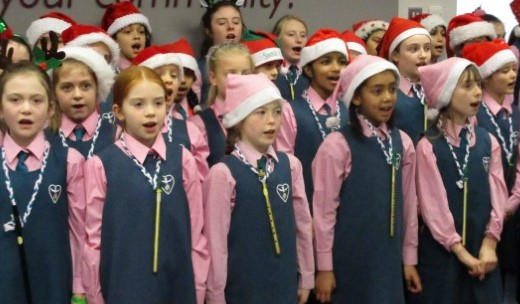 Carol Singing at Christmas
Scoil an Spioraid Naoimh pupils delighted audiences with their performances leading up to Christmas 2018. It was a joy to listen to the girls perform to their usual high standard and they all looked so well in the uniform, of which we are so proud. Girls sang for patients and staff in St. Patrick's, Marymount on December 18th. Our 5th and 6th class pupils were under the direction of class teachers Iníon Ní Chonchúbhair and Bean Lombard and accompanied by Iníon Ní Choileáin on the day.
Thursday, December 20th was our morning for First to Fourth classes to carol sing in A.I.B. Bishopstown. Customers gathered to enjoy the magic of the moment.
On December 19th, our own wonderful night of carols took place in the Church of the Real Presence. This is indeed a special night. As always, each family generously donated to the Bishopstown Lions Club Food Appeal. We are very grateful to the Lions Club for facilitating the collection of food parcels from the church.